White Hummingbird Tree
Regular price
Sale price
$12.00 USD
Unit price
per
Sale
Sold out
Hummingbird Tree
sesbania granidflora

days to maturity: 120 days
plant spacing: 1 plant per 8 square feet
sunlight requirement: 8 - 14 hours
look out for: worms in the growing tip when plants are young
harvest notes: harvest flowers before they open, when they are crescent moon shaped
Perennial

Hummingbird tree is quite a unique fast growing tree native to Southeast Asia. All parts of this fast growing tropical flood tolerant tree are edible or useful, making it popular with permaculture gardeners and flowering tree enthusiasts alike.

There is very little information online about the Hummingbird tree, however there are two very thorough review of the plants particulars and culinary uses here:

http://www.eattheweeds.com/sesbania-grandifolia/

http://theindianvegan.blogspot.com/2014/01/all-about-agathi-sesbania-grandiflora.html

Hummingbird flowers and leaves contain high amounts of iron making the tree a popular wild food source in Laos, Thailand, India and the Phillipines where they grow wild and flower profusely during the rainy season. We are particularly intrigued by the use of the flowers to make a "blossom fritter" with chickpea and rice flower, nigella seeds, baking powder, sugar and salt. While the flowers are beautiful they are also quite bitter. We hear that removing the interior stamens reduces bitterness.

In addition to its culinary uses, Hummingbird tree is a leguminous tree, meaning it will fix nitrogen in the garden, however beware its potential size... when grown in the tropics it can reach up to 30 feet (size can be controlled with pruning). Like the similar looking Moringa tree, this tree has very soft wood, shallow roots, grows quickly, and can be considered a "temporary tree", since you can grow it and then cut it down a few years later once it looses its vigor. Hummingbird Tree has very few pest issues and grows quite easily at our farm in zone 10b.

Materials

All of our plants are produced using OMRI certified organic materials (potting mix, fertilizer & pesticides) however our nursery is not certified organic. Plants are shipped in compostable peat moss pots and we use heirloom & organic seeds whenever possible.
Shipping & Returns

We ship plant orders every Monday. Due to the nature of shipping plants we only offer expedited shipping for our live plant orders. Our returns & exchanges policy is also quite strict since its hard to control the quality of a plant once it leaves our facility, however we do our very best to make sure that each and every customer is satisfied with their plants. Read more about our policies here. 
Size

All of our plants are potted in 4" pots and their foliage size varies based on how large the plant is naturally when its root ball is the correct size for the pot. If a plant is too tall for our shipping box we may prune it to fit (bonus: many plants do better after being pruned since they make bushier growth). We do our very best to ship all of our plants in the "sweet spot" of maturity however so long as the roots have colonized the pot we will consider a plant mature enough to ship.
Care Instructions

When you receive your plant its critical to get it out of its box and into the light the day it arrives. It will also want to be removed from its compostable plastic wrapping and given fresh water to drink. Keep in mind, this plant was grown in the tropical humid climate of South Florida, so if it's terribly cold or dry where you are it'll need to be hardened off before planting outdoors. Visit our care instructions page for more thorough info about caring for your new plant friend.
Share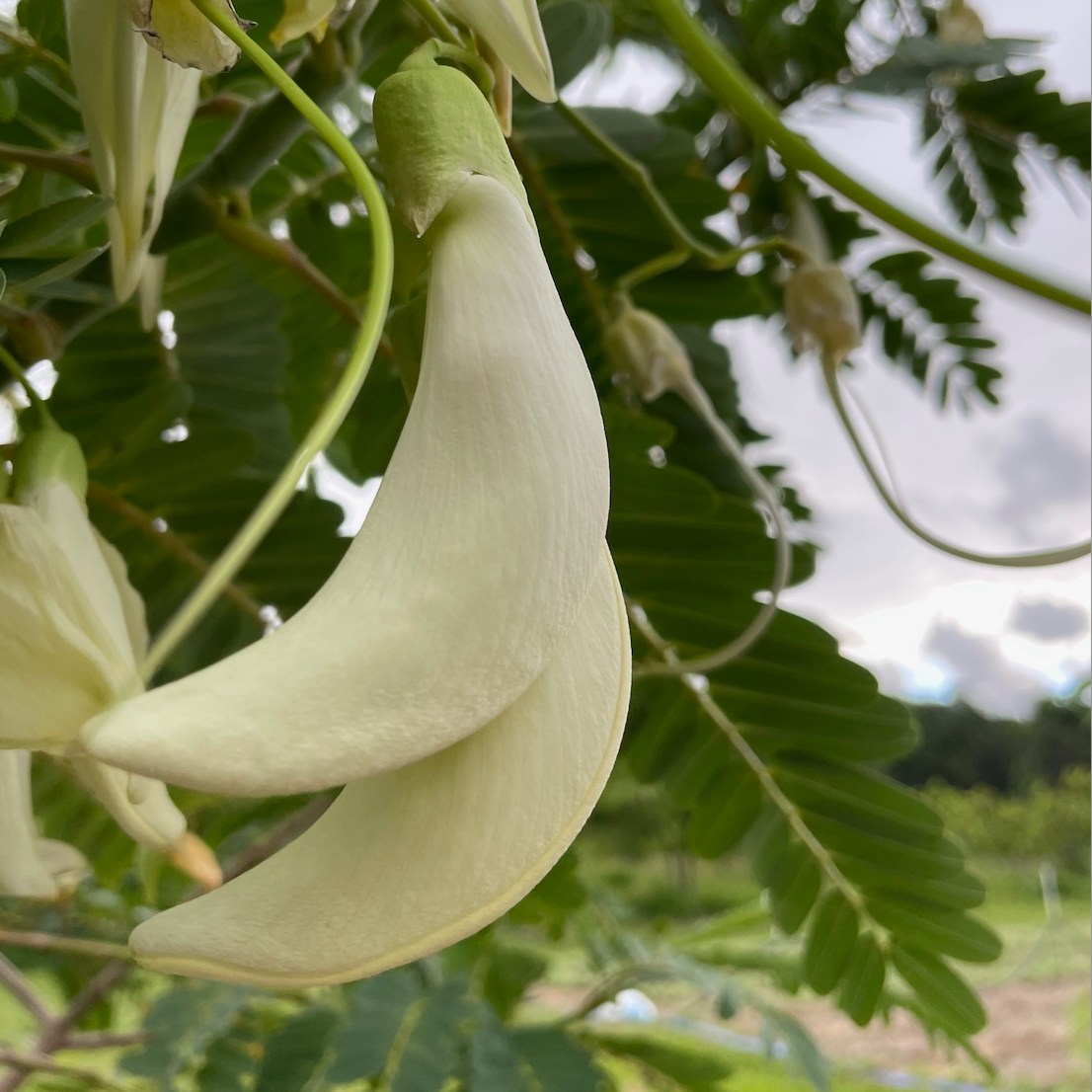 What Our Customers Have to Say:

This is a great, local organization with really knowledgeable & friendly staff. They make gardening easy and accessible, and I've purchased many high quality plants and equipment from them.
-Kate Black (5 star google review)

And Another One:

How lucky we are to have a resource like Little River Cooperative here in Miami, not only for the access they offer to a great selection of plants and produce, but also for the knowledge they provide and the sense of community they foster!
-Nick Vagnoni (5 star google review)